Jurgen Klopp made two changes to the side that lost to Madrid last time out, as Milner and Firmino both coming in while Keita and Mane were dropped to the bench.
Meanwhile, Dean Smith made two changes to his team after their win over Fulham last weekend, Trezeguet and Nakamba were in the starting fixture for Aston Villa.
MATCH ANALYSIS: Liverpool VS Aston Villa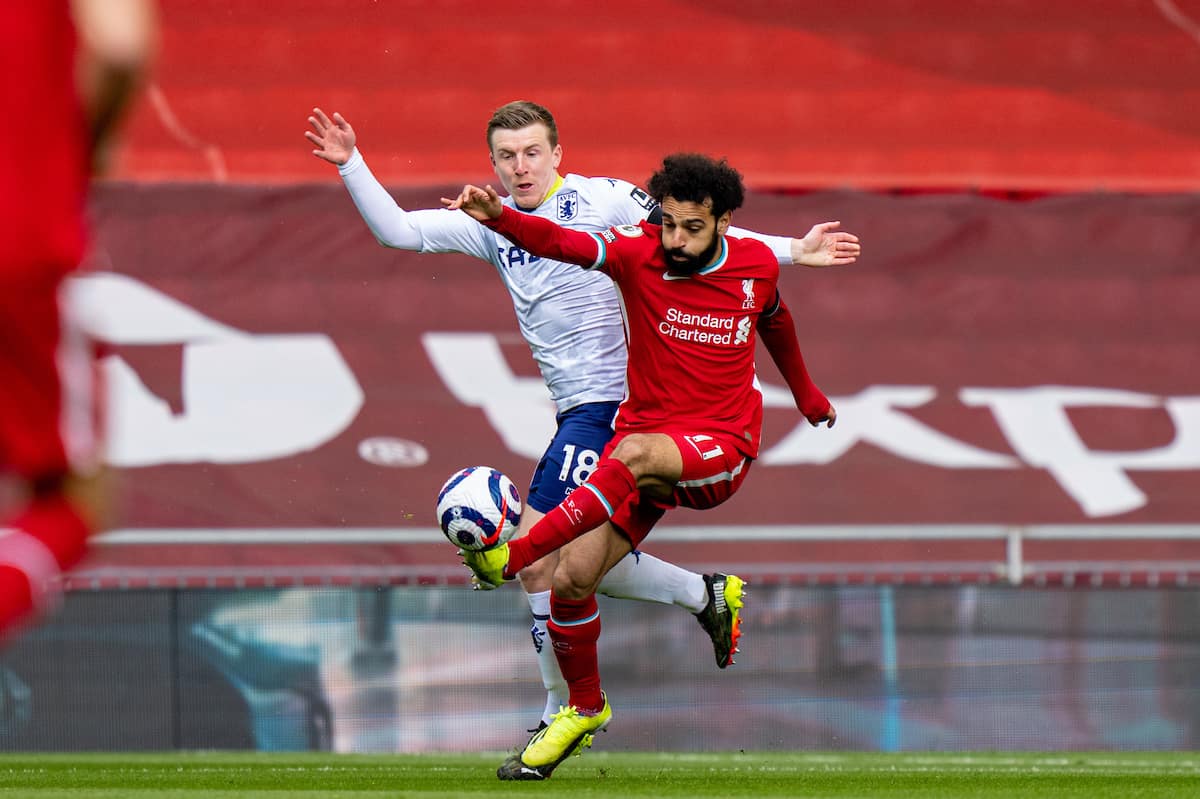 In short of 15 minutes Salah missed an goal scoring chance, he went one-on-one with Martinez and just rolled wide of the post. As Liverpool kept attacking and created more play while Robertson's corner was picked by Jota and just went on top of the crossbar, anyhow the Reds kept their pressure on Villa.
In the 43rd minute McGinn finds a whole towards Watkins and the striker managed to poke a shot on goal between two defenders, it seemed Allison saved but it bounced under his arms and hits back on the net and Smith's side got their lead.
In the additional minute of first-half an momentum created by Firmino by hitting the net but the VAR favoured Villa as the goal dissallowed because Jota found offside. By the end of first 45 minutes Liverpool 0-1 Aston Villa.
In the first-half Liverpool kept their play in Aston Villa's defense line, but they struggled to beat Martinez though picking couple of shots. Klopp's boys were on hurry in second-half as in the 57th minute Robertson breaks a play inside the box and took his shot and Martinez kept his hands to it but he pushes into Salah's path and the Egyptian heads it into the empty net to score Reds equalizer.
Villa started putting pressure on Liverpool but their passing towards final third left them down and both side started committing silly fouls as Matt Targett, Andy Robertson and Ollie Watkins names taken in the referees book.
And finally end of 90 minutes scoreboard was 1-1 and referee allotted 5 minutes stoppage time, were Alexander Arnold the man who curled a shot into the far right corner to bring an Liverpool lead.
And finally Liverpool won a game at Anfield after mid-December.
Notable Performances
Nathan Phillips: He made three key passes, by the end of the day Liverpool's center-back made clear that he stopped every Villa counter-attacks. He has to play in the same way to grab the spot alongside Virgil Van Dijk in near future.
Trent Alexander Arnold: Earned a spot-light against Villa with his astonishing strike in the stoppage time, he kept offensive play on top of his ladder. He never left his attitude down through out the game.