The two-time gold medalist Argentina have announced a very inexperienced squad. Having, just won the Copa America Argentina would like to make go in all for the Olympics too.
Olympics 2020 : ARGENTINA NATIONAL TEAM PREVIEW
Meanwhile, El Albiceleste have announced a very diverse squad. The 22 players play their club soccer in a combined eight different nations, including Spain, England, and Mexico.
Goalkeepers: Joaquin Blazquez (Talleres), Lautaro Morales (Lanus), Jeremias Ledesma (Cadiz)
Defenders: Hernan de la Fuente (Velez Sarsfield), Marcelo Herrera (San Lorezo), Nehuen Perez (Granada), Leonel Mosevich (Vizela), Facundo Medina (Lens), Francisco Ortega (Velez Sarsfield), Claudio Bravo (Portland Timbers)
Midfielders: Fausto Vera (Argentinos Juniors), Santiago Colombatto (Leon), Tomas Belmonte (Lanus), Martin Payero (Middlesbrough), Thiago Almada (Velez Sarsfield), Esequiel Barco (Atlanta United)
Forwards: Carlos Valenzuela (Famalicao), Pedro de la Vega (Lanus), Alexis Mac Allister (Brighton & Hove Albion), Agustin Urzi (Banfield), Adolfo Gaich (CSKA Moscow), Ezequiel Ponce (Spartak Moscow)
OLYMPICS 2020 : GROUP SCHEDULE
Argentina have been placed in Group C. Meanwhile, Group C officially kicks off the men's tournament on July 22. They will be facing a very strong Spanish side. Further, playing Eygpt and Australia in the group stage.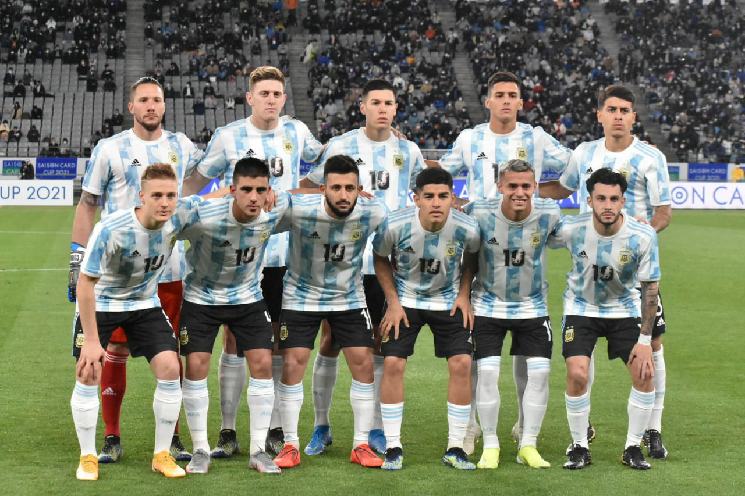 PREDICTED LINEUP AND FATE OF THE ARGENTINA NATIONAL TEAM
Although Argentina looks like a very inexperienced side, it is difficult to rule them our completely. We will be seeing Thiago Almada as one of the star players playing for Argentina. He stands just 5 feet, 5 inches tall, but makes up for his diminutive stature with his brilliant flair and skill. Likewise, Argentina have 28-year-old goalkeeper Jeremias Ledesma. Jeremias is the only overage player in the Argentina squad.
In conclusion, Argentina doesn't look like favourites to win his tournament. During the course of this tournament, we could see them getting knocked out in the quarter-finals or the group stage itself.
In addition, Egpyt have been putting up a lot of great performances. Eventually, that makes them favourites to finish second behind Spain.